The Agafay Desert Day Trip will whisk you away to a magical spot, allowing you to break free from the routine of contemporary cities. This excursion departs from the vibrant city of Marrakech and takes around an hour to get there.
The Agafay Desert Day Trip will give you the opportunity to explore the rocky landscape in the foothills of the Atlas Mountains, understand how the traditions of Berber life continue to be practiced today, and visit some of the settlements that are strewn over the desert. In the evening, we will get on the road and go back to Marrakech.
Agafay is a magnificent oasis that is situated 30 km to the west of Marrakech. This region, which was known in ancient times as the Marrakchi Desert, was known for its proximity to the Oued riverbeds and its spectacular vistas across the vast Moroccan desert. The greatest way to get away from Marrakech is to take a day excursion to the Agafay Desert. Here, amateurs of outdoor activities are charmed by the sensation of freedom to engage in their chosen activity anyway they choose in expansive open areas.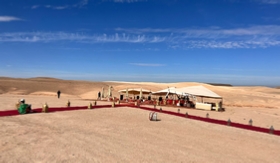 ONE DAY TRIP FROM MARRAKECH TO THE AGAFAY SAHARA DESERT

DAY TRIP FROM MARRAKECH: SAHARA DESERT EXPERIENCE IN AGAFAY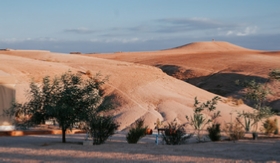 INCLUDED IN DAY TRIP FROM MARRAKECH: SAHARA DESERT EXPERIENCE IN AGAFAY
Lunch or Dinner included.
A/C vehicle / English speaking driver / Experience in Agafay desert.
Pick up / Drop off from Marrakech / Accommodation in riads / hotels
Optional camel ride, optional quad or buggy ride across Agafay desert