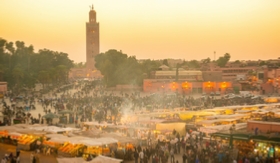 Day 1 : Arrival at Marrakech RAK airport/Agadir, 250 KM
"Rove Morocco Travels" invites you to explore Morocco in 24-day private tour. Pick up from the airport early afternoon transfer to Agadir; Overnight at Agadir. www.riadvillablanche.combed breakfast accommodation
Day 2 : Agadir to Imouzzer-Ida outanane. 70KM
Check out the hotel and drive up the mountain of Agadir to reach the top point called Agadir Oufla, admire the town from that Amazing panoramic view and continue to Imouzzer-paradise valley w/waterfalls-hiking over ImouzzeridaOutanan Mountains, overnight at Imouzzer hotel. www.cascades-hotel.com/en/cascades-hotel-imouzzer.html Half board accommodation.
Day 3 : ImouzerIdaOutanan-Taroudant, 160KM
After breakfast head to taroudant through the Argan forest and Anti Atlas mountains, arrive at taroudant check at the hotel and meet local guide to explore taroudant medina which is called the small Marrakech,have lunch at the Medina and continue wondering around the area of taroudant over night at Taroudant . Yes there will be Argan oil Co-Ops that will visit again . www.riadelaissi.ma/ Half board Accommodation
Day 4 : Taroudant-TioutKasbah-Taroudant
After breakfast,head to visit Tiout Kasbah, meet the local guide take donkeys to wonder around its Pallmerai, have a drink at the natural spring take pictures,have lunch at a Local Riad ,head through the Argan trees forest to enjoy the sunset from the Garden of your Riad .overnight at Taroudant . I suggest two nights at Taroudant instead of tiyout village; we'll spot a good place for the sunsets) . www.riadelaissi.ma/ Half board Accommodation
Day 5 : Taroudant to Kasbah AitBenHadou, 294km
After breakfast head to Aitbenhadou Kasbah via Taliouine; stop at Taliouine Cooperative to learn about the red gold of Morocco "Safran" Continue to Taznakhat for lunch and drive through the Scenic lands through High Atlas Mountains to reach the world Unesco heritage Kasbah of AitBenHadou .overnight at www.ksar.ighnda.net/en/index.php Half board Accommodation.
24 Day Tour from MARRAKECH
TOUR AROUND MOROCCO
Book now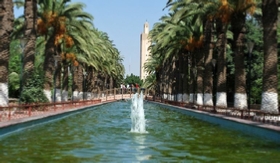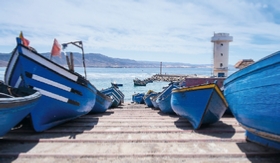 Day 6 : Kasbah AitBenHadou-Ouarzazate, 122KM
After breakfast visit the Kasbah early morning/ Horseback riding (if available) or hike and head to visit Kasbha "PachaGlaoui" at Telouet Village, have lunch, and comeback to spend the night in Quarzazate. http://www.riadbouchedor.com Half board Accommodation
Day 7 : Quarzazate-Agdz: 100ish KM
Leave Ourzazate to cross Tizin'Tinififft passes at an alt of 1660M wonder around the Pass and have enough time to explore the area and Draa Valley and Agdz, hiking trip at the area, have lunch and visit Kasbah tamnogalt over night at Agdz. www.casbahdesarts.com Half board Accommodation
Day 8 : Agdz - Nkob-Rissani, 260KM ok
After breakfast Visit the valley and hike the palmeraie explore the area and the surrounding villages have lunch with a local family and head to Tafilalet overnight at Rissani. Half board Accommodation
Day 9 : Rissani-Merzouga
After breakfast,visit the authentic kasbah/ksar of Rissani and the ruins of the old/historic town of SilJilmassa,have lunch with at my family place,my house is your house gift to the kids or my sister are appreciated , Berber jewelry, (small, symbolic gift that fit in your suitcase, they like things that symbolize your country/pens/perfume..) . Overnight at Merzouga www.riadmadu.com/en/ Half board Accommodation
Day 10 : Merzouga-Black desert-Merzouga
After breakfast join the 4x4 for an off road trip to the remote village of Tissirdmin, and continue through Azerkam nomadic area, witness the way of life of the Nomades, and head to Safsaf clifs for a picnic, afternoon head back to the hotel - Half board Accommodation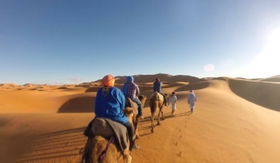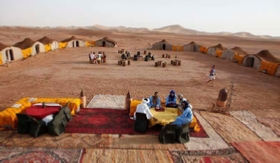 Day 11 : Merzouga Erg Chebi
Afeter break explore the irrigation system of the village,visit the Bambars village to enjoy their music have lunch and head back to take the camels to spend the Night at Madu camp in Merzouga desert
Day 12 : Merzouga Erg Chebi
Wander the Erg Chebbi Dunes/pictures/ relax in a camp that is more remote, pristine and less traveled area/ remote camp, over night at the camp Half board Accommodation
Day 13 : Merzouga Stay with berber family/ Erg Chebi
After breakfast walk around the Camp and Erg Chebbi Dunes, on the afternoon camp/overnight with Berber family, I'll make sure to have an english speaking camel man, and I'll try to join you at night time as I'll be driving the car sometime I need to fix or arrange the car for the next day and the rest of the tour, everything will be under control no worries. Overnight in a Berber Family Tent Half board Accommodation
Day 14 : MerzougaTaouz-Ouzina
After breakfast Join your hotel to pick up the luggage, shower up and join the 4x4 to Taouz mineral mines, visit ouzina village,walk around the area/dunes and overnight at Ouzina. Concerning the henna painting there's a village in our way which is nown by henna production,we'll stop by a family to get your hands tattooed with henna www.ouzinarimal.com Half board Accommodation
Day 15 : Ouzina-Mharech
After breakfast, leave Ouzina drive through the Roads of Paris-Dakar Rally towards Ramlia berber village, stop at Oubahalou isolated Village wonder around the small dunes of OuadGhriss, continue to the dry lake visit a nomad family and Overnight at MharechRiad Nomad www.riadnomad.com/ Half board Accommodation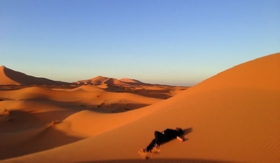 Day 16 : Mharch - Alnif - Tazzarine - Zagora
After breakfast head towards Alnif through the berber villages to see the fossil sites-Trilobites Centre; since you are interested to see that we'll have enough time to learn about the Origins of these Fossilized Creatures, Tazzerine-AitOuazik w/petroglyphs fr about 5000 BC; Henna fields-cultural activity(if possible). Enough time in Tazzarine overnight at Zagora. www.azalaidesertlodge.fr Half board Accommodation
Day 17 : Zagora –Draa Vally exploration Zagora
This day will be devoted to explore Draa Valley and its surrounding Kasbahs, hike walk and relax at the palmeraie sport a good place for sunset and back to Riad. Overnight at Half board Accommodation
Day 18 : Zagora-M'hamid-Erg Chigaga
Leave To Zagora admire the Draa Valley take pictures of Zagora-52 days to Timbuktu sign; camp in Erg Chigaga visit Nomad family overnight at the Bivouac ErgChigaga. www.azalaidesertlodge.fr/desert-camp/?lang=en Half board Accommodation
Day 19 : Erg Chigaga-Foum Zeguid-Tata 350KM
Hike Erg Lihoudi and take pictures, join the 4x4 drive through Iriki Oasis visit the beduine villages, explore a different desert visit FoumZeguid town and overnight at Tata. Will have enough time and its ok spring summer days are long. www.darinfiane.com/ Half board Accommodation
Day 20 : Tata-Tafraout-Tiznit, 266KM
In the morning visit the village, drive through the Scenic rocky desert lands of Tata which is oasis town at the edge of the Moroccan Sahara, head to Tafraout a town known for its Berber yellow Shoes and Almonds walk around Valleed'Ait Mansour Gorges and Oasis, have lunch and continue through the Anti Atlas Mountains to Tiznit. Overnight at ksar massa www.ksarmassa.com/ Half board Accommodation
Day 21 : Tiznit Massa National Park Agadir 97KM
After breakfast visit the town of Tiznit which is a Berber town known by its silver making and handcraft, have lunch at the Medina, after lunch head to Massa to visit the National Park & Bird Reserve: hiking and bird watching (rare northern bald ibise) at Oued Massa with a local guide (I'll contact Baha if not available we'll use another local one.visit national park soussmassa enough time to hike & Visit Park. Overnight at Agadir www.riadvillablanche.com/ bed breakfast accommodation
Day 22 : Agadir-relax at Agadir
Visit the Musem of Patrimoine Amazigh or walk around the beach – last day to relax enough time to pack. Overnight at Agadir. www.riadvillablanche.com/ bed breakfast Accommodation
Day 23 : Agadir to Marrakech, 250 KM
After breakfast, leave Agadir drive through the highway to Marrakech,drive one way no visits of landscapes, overnight at www.riadwaw.com in Marrakech
Day 24 : Marrakech
Departure/transfer to the Airport of Marrakech and "Rove Morocco Travels" would like thank you for exploring Morocco with us.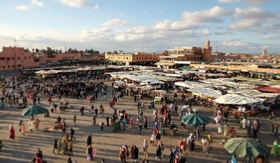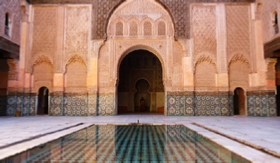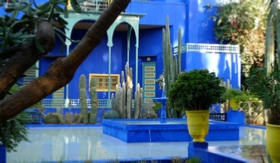 WHAT IS INCLUDED IN 24 DAY tour
FROM MARRAKECH
Hotel/riad including breakfast and dinner as per itinerary
A/C vehicle / English speaking driver / Local guide
Pick up / drop off from Marrakech
Camel ride and a night in desert camp



WHAT IS NOT INCLUDED IN 24 DAYS MOROCCO PRIVATE TOUR
SOUTH MOROCCO TOUR FROM MARRAKECH
Plane tickets and travel insurance
Fees to attractions,monuments