rovemoroccotravel@gmail.com Phone&WhatsApp +212 613 346 446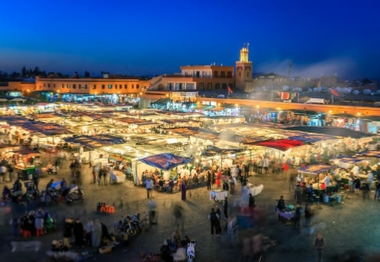 MERZOUGA DESERT CAMEL TREKKING IN SAHARA DESERT
The camel ride starts in the evening and lasts for about an hour and a half. We'll set up the camel trip into the desert and spend the night there. Everything we need, including food and bedding, will be loaded onto camels at a motel near the sand dunes. In the middle of the Sahara, in a fully furnished desert tent, to the sound of drums, we will spend the night. You may get stunning images of both the sun setting and rising. When we get to camp, we'll take a stroll up to the sand dunes to watch the sun go down. Our evening will consist of feasting around a fire and sleeping in nomad tents. We'll start the day with a camel ride back to the settlement of Merzouga, where we may check into our hotel, eat breakfast, and freshen up before hitting the road. The greatest overnight camel trekking in the Merzouga region of the Sahara desert is available for booking at reasonable pricing. Spend the night in a camp out in the desert beneath the stars.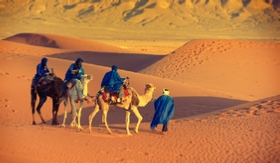 MERZOUGA CAMEL TREKKING AND 1 NIGHT IN DESERT CAMP - BIVOUAC
INCLUDED IN THE MERZOUGA CAMEL TREKKING TRIP AND ONE NIGHT IN THE DESERT CAMP:
1 night in desert camp in desert tents
Camel ride in Merzouga Sahara desert
Pick up / Drop off from your riad







MERZOUGA DESERT CAMEL TREKKING IN SAHARA DESERT
This excursion kicks off in the evening from a hotel in Merzouga's vicinity to the sand dunes. Everything we need for our two-night desert vacation will be loaded onto the camels. After a 90-minute camel journey into the desert, we'll set up tent in the heart of the Sahara and spend the night listening to Berber drum music. Soon after we set up camp, we make our way to the top of a nearby dune to watch the sun go down. On the first night, after eating around a fire, we'll retire to our nomad tents for the night.
The next day, after breakfast, we will saddle up the camels and travel to a nearby village to meet some local Nomads and share a meal with them. After that, we'll take the camels back to camp, where we'll leave them and get some sand broads for the hike out to the high dunes. After exploring the neighboring oasis, we'll stroll back to camp as night falls. Next morning, after waking up early to see the dawn, we'll take a camel ride to Merzouga, where we'll check into our hotel, eat breakfast, and take a hot shower.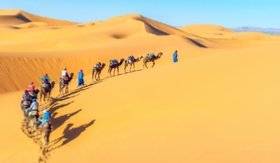 CAMEL TREKKING IN THE MERZOUGA DESERT AND TWO NIGHTS IN A DESERT CAMP
INCLUDED IN THE MERZOUGA CAMEL TREKKING TRIP AND TWO NIGHTS IN THE DESERT CAMP:
2 nights in desert camp in desert tents
Camel ride in Merzouga Sahara desert
Pick up / Drop off from your riad / hotel