Our Morocco Private tour starts today and we explore Casablanca's most important places including the Hassan 2 mosque. Then we head to Rabat , the capital city of Morocco. Here we will visit also the Hassan Tower. Then we drive towards Meknes , an imperial city that rose to prominence with the sultan Moulay Ismail ( 1672- 1727) who set the capital of Morocco to Meknes and gave it its golden age by building his imperial palace, city walls and kasbahs. Our visit places of interest include the gate Bab El Mansour, Masoleum of Moulay Ismail, the imperial Palace and the royal granaries and stables. Then we drive to the Roman ruins of Volubilis with its Galem's baths, basilica, capitol and forum and the sacred village of Moulay Idriss. We'll arrive in Fes in the evening to have dinner and spend the night in a local riad.
Day 1: CASABLANCA - RABAT - MEKNES – VOLUBILIS - Fes

7 Days Tour from Casablanca
Explore Morocco in guided tour
The second day of our Morocco Private tour is dedicated to discover of Fes. We explore all the charms of the most cultural of the imperial cities of Morocco. We can also arrange for a professional local guide if you feel that is necessary. One day is hardly enough to visit all the wonders of the most ancient of the imperial cities and world famous for its leather and metalwork: Medersa ( Koranic school ) Bouinania, Bab ( gate) Boujloud, the leather tanneries, Najjarine Museum of Wooden Arts and Crafts. You might also want to just roam around some of its 9500 narrow alleys and just take in all the sounds, smells, sights and spells. We stay overnight in Fes.
DAY 2: Fes GUIDED CITY TOUR

After breakfast, our Morocco Private tour continues to Ifrane, a colonial alpine resort built by the French in 1929. With its alpine chalets, trimmed gardens, leafy park surrounding a mountain fed lake , you could almost be in Switzerland. The surrounding countryside is pigmented by apricots, walnuts and plum trees and pictures of rural Berber life as we approach Midelt. A few hours later we arrive in Erfoud, the capital of the main dates producing area in Morocco. Erfoud is also famous for its fossil products. Then we are headed towards the desert passing Rissani and we arrive shortly in Merzouga, the last village before the dunes. We stay overnight in desert hotel / riad.
DAY 3: Fes - IFRANE - AZROU - MIDELT - MERZOUGA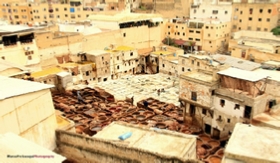 Today our Morocco Private tour continues and we will explore desert are . We ride camels and we reach the dunes of Erg Chebbi ,highest in Morocco. We will also visit a Berber family and also Khamlia village ,where we listen to Gnawa music. We will visit Berber nomads and oasis of palm trees in nearby area. After lunch in Merzouga we ride camels in the sand dunes to reach desert camp. We will spend this night in desert Sahara camp where we will enjoy Berber drums music in the middle of the Sahara. You will also enjoy the sunset and sunrise in desert. After traditional Moroccan dinner we stay overnight in desert tents.
DAY 4: MERZOUGA DESERT 4X4 TOUR AND CAMEL TREKKING

After breakfast we ride camels back to Merzouga and then by 4x4 towards Rissani that used to serve as last stop on the great caravan routes south. We drive to Todra Gorges, which is the most spectacular gorges of Morocco, only 15 km from Tinghir.
We will head to Dadès Gorges where we will enjoy unique scenery. Our next stop will be Kelaat Mgouna , famous for its rose- derived products industry. Shortly after we reach the palm grove of Skoura. Dinner and overnight in a charming riad.
DAY 5: MERZOUGA -RISSANI – TODRA GORGES - TINGHIR - SKOURA

Today we continue to Ouarzazate , we may visit the film studios where many famous movies were shot including Lawrence of Arabia or Gladiator and others. Then we arrive on the site of the most well preserved and famous Kasbah in Morocco – Ait Benhaddou , another world heritage UNESCO site. Then we head to reach Telouet. At Telouet, what was once the main residence of the ' Lord of the Atlas' – Pacha El Glaoui .
Shortly after Telouet, we descend the Atlas Mountains to reach Marrakech. Dinner and overnight in a local riad/ hotel in Marrakech.
DAY 6: SKOURA – Ouarzazate – AIT BENHADDOU – MARRAKECH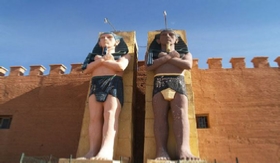 On the last day of our Morocco Private tour we will explore Marrakech main attractions before leaving to Casablanca . We will visit Jarden Menara,Marjolle ,then we explore souk and new part called Gueliz. That will be end of our Morocco Private tour.
DAY 7: MARRAKECH – CASABLANCA

WHAT IS INCLUDED IN 7 DAYS Morocco Private tour
FROM CASABLANCA TO Fes , MARRAKECH AND DESERT
Hotel/riad including breakfast and dinner as per itinerary
A/C vehicle / English speaking driver / Local guide
Pick up and drop off from Casablanca
Camel ride and a night in desert camp







WHAT IS NOT INCLUDED IN 7 DAYS Morocco Private tour
FROM CASABLANCA TO Fes , MARRAKECH AND DESERT
Plane tickets and travel insurance
Fees to attractions,monuments





MAP FOR 7 DAYS Morocco Private tour
FROM CASABLANCA TO Fes , MARRAKECH AND DESERT
Book now